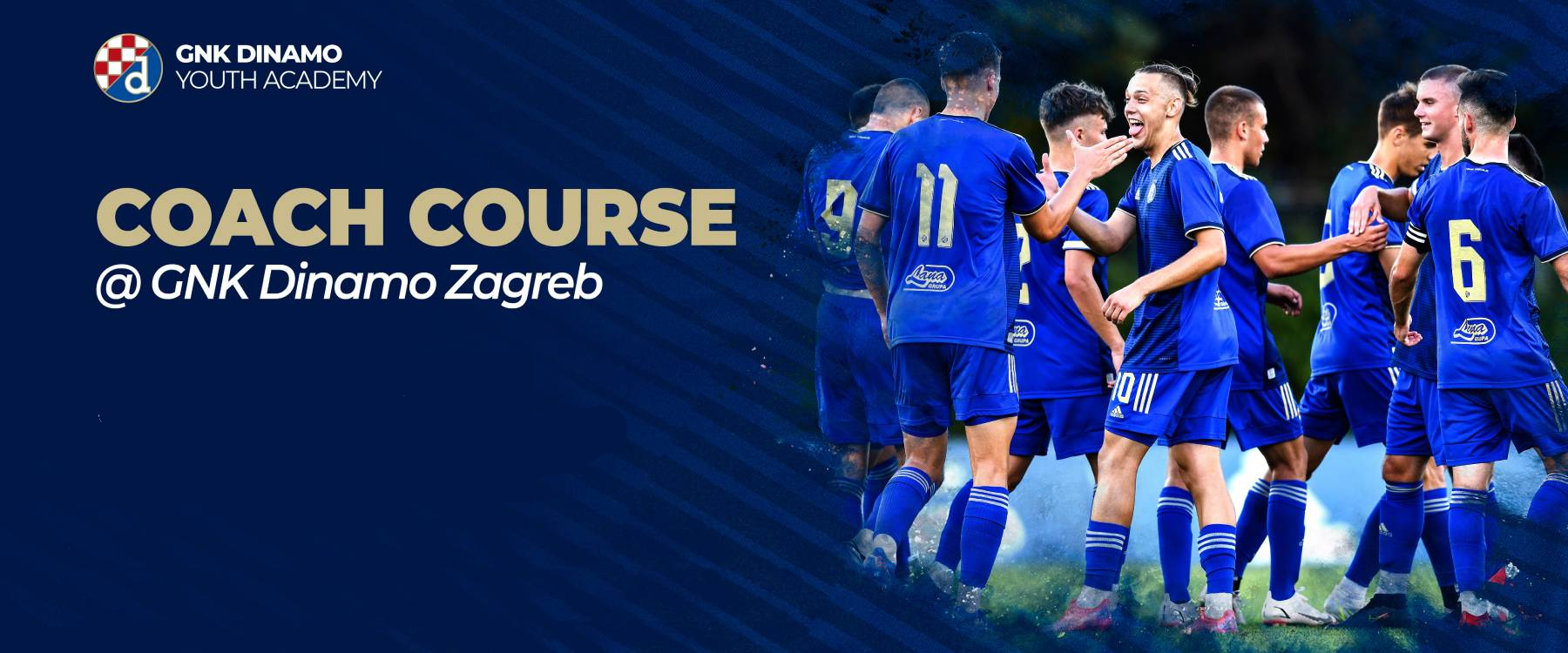 Coach clinc at GNK Dinamo Zagreb
October 13-16 2022
This spring's coaching courses with GNK Dinamo Zagreb were quickly sold out! Now you who missed the chance have the opportunity to take the course again. If you joined this spring, you can go again - Dinamo customizes the program for you so you can learn new things.

GNK Dinamo Zagreb's Academy is regarded as one of the world's foremost. With relatively small resources, the Croatian club has developed plenty of world players. Luka Modric, Dejan Lovren, Mateo Kovacic, Marko Pjaca and Vedran Corluka are just some of those who have come from GNK Dinamo Zagreb's academy in recent years.

Now we can offer you a unique opportunity to visit the club and learn and get a deeper insight in their work and learn the secrets behind the success. You get the opportunity to learn how the academy is organized, the club's philosophy and get an understanding of why GNK Dinamo Zagreb is so successful in producing talents. You get to watch the youth teams training sessions, meet the club's coaches and see how the club works to develop their young players.

This course is aimed at football coaches, sports managers, players and anyone else who wants to get inspiration and knowledge from one of the world's foremost talent factories. After this course you will be loaded with inspiration and ideas that you can adapt in your own team or club.

There are only 10 places for this course. There will be a small group going. This means that you will have a lot of time for questions and interaction with the course leaders from Dinamo Zagreb. It also means you have to hurry to sign up to secure your place!

If you took part in the course this spring, you can go again, Dinamo will then adapt the program so that you can take part in other lectures than the first time. In the form, enter "No" on the question "First visit"
CONTENT
Presentation of the Academy
Learn how one of the best academies in the world is organized. What is their philosophy and methodology? How come they makes such great result with small resources?
Training plan for the chosen age groups
You will be introduced how the club work with weekly planning of certain age groups
Tactical insights
Session were you get a deeper insight on how GNK Dinamo Zagreb work with the tactical aspect of the games
Condition
Learn how the club work with the physical preparation of the players at different ages.
Study training sessions of academy teams
We will watch academy trainings and if possible some participants of the course can attend as assistant coaches during some sessions.
Q&A with coaches
After the training sessions you can have a chat with the academy coaches of Dinamo Zagreb.
Attending academy games
f there is academy games we will go and watch together and analyze it with our guide from Dinamo Zagreb
Tour of the Academy and club
We will have a guided tour where we watch dressing room, trophy room, team hotel and blue salon.

First team match
As the game schedule is not set, we can not guarantee anyone with Dinamo Zagreb this weekend. However, they will have the opportunity to watch other matches with both senior teams in the top leagues and the academy teams,

The days are divided into a morning session 8-12 and an afternoon session 15-22. A detailed schedule comes no later than one week before the start of the course.
Certification & Gift
All participants will get a diploma and a gift from the club after the course
DATE
October 13-16 2022
PRICE
3.500 SEK (currency converter)
HOTEL
You book a hotel in Zagreb that suits you. If you want advice, you can contact
Ana Rončević
at Bantours for assistance
FLIGHT
You book your flight yourself. The course starts on Thursday morning so you need to be there by Wednesday evening (12/10). You are responsible for the transfer to your hotel. You fly home on sunday (16/10). There are no scheduled activities on the sunday.
REGISTRATION
You register in the form at the bottom of this page. 
To take the course, you must be fully vaccinated against COVID or can show an accurate negative COVID-test.

Date
October 13-16
COST
3.500 SEK (approx 350 E)
AVAILABLE PLACES
10 per course
FLIGHT & ; TRANSFER
Not included
HOTEL
Not included
INFO
To take the course, you must be fully vaccinated against COVID or can show an accurate negative COVID-test.
You are responsible for having the required insurances
You must have read and approved the terms and conditions before you sign up for the course